---
---
---
---
---
---
---
---
---
---



AQUARIA LINKS


I have a 48 gallon convex "planted" aquarium in my bedroom.
I'm growing Java ferns, Java moss, Jungle Val, Lilaeopsis, Anubias Nana,
and several unknown species.

The plants (and algae) are bubbling away and rapidly reproducing,
thanks to information that I found on the web. The most interesting thing that
I learned was the "Do It Yourself" CO2 injection method.
Thanks to it I chucked all my plastic plants and went with the real thing.



Plants need a lot of CO2 to survive and prosper, and there just isn't enough in an aquarium. Adding it by using yeast, sugar, baking soda and a plastic 2-liter pop bottle is a
cheap way to do it. It only costs a few bucks USD.

The store-bought injectors cost around $400.



The tank is stocked with Tetras of all kinds. Cardinals, Glowlights,
and Black Neons. There is also a large family of White clouds, several Corys and some Otto's. Plus the odd adopted fish here and there when somebody's kid quits taking care of their aquarium. I'm turning into some kind of aquatic animal shelter. In fact the Black Mollies are starting to take over. I bought two Clown Loaches to eat my snails, and they seem
to be keeping the Mollie population stable now that the snails are gone.
The babies keep getting "disappeared."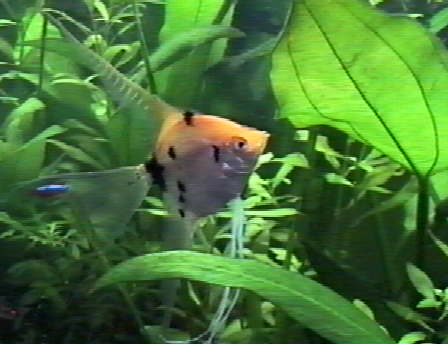 This is a picture of my silly Angelfish.
It has just finished running off the poor little Neons from it's favorite egg laying leaf.
Why it lays hundreds of eggs every couple of weeks is a mystery to me.
I guess it's just hoping that I'll get the hint and buy her a husband.